Hallmark Promotions
Welcome to our new Online Catalog!
Featured Item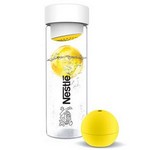 Ice Ball Flavourit Glass Water Bottle
The Ice Flavourit Ball 20 Oz. (600 mL) glass water bottle with fruit ice ball maker adds an ice cold infusion of flavor to your water. Place your favorite fruit in the ice ball infuser, add water or y...

Signature Showrooms